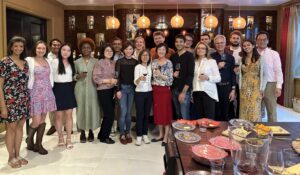 On the 20th of May, a lucky few CCUK alumni had a wine tasting experience, featuring a selection of wines to get us red-y for spring!
It was led by Sherry Stolar, CALS '07, founder of Sherry Rose Wine and event manager for Mayfair-based retailer Hedonism Wines, we tasted a selection of five wines. By tasting wines from various grape varieties and regions, we walked away with a better understanding of the styles of wine we like and, most importantly, the language to use to make better wine choices for ourself the next time we're in a shop or restaurant.
Stay tuned for next year's event!