It was the 4th of November, 2022. The US Midterm elections were days away, days earlier Rishi Sunak had been appointed the UK's third Prime Minister in less than two months, and it was to the day, one hundred years earlier, that Howard Carter's team discovered King Tutankhamun's tomb in Egypt. Significant global challenges – Russia's invasion of Ukraine, the resulting energy crisis and food shortages, spiralling inflation, market volatility, COP27 and the climate emergency, G20 and simmering global tensions – set the scene to discuss the important themes of innovation, resilience, and change.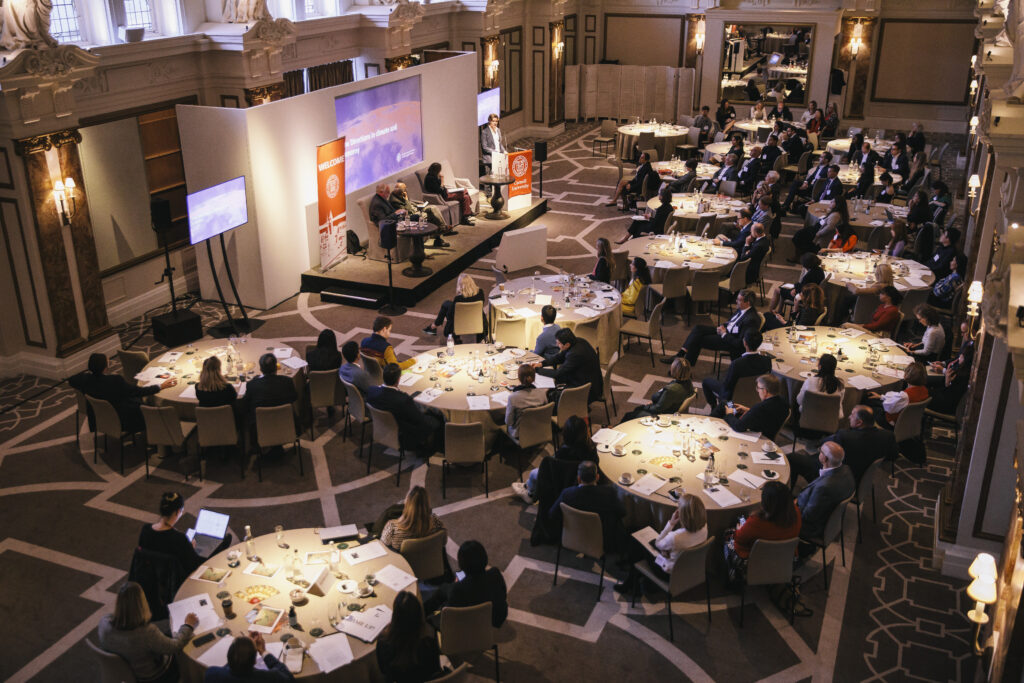 Cornell alumni convened in the striking ballroom of the Kimpton Fitzroy London Hotel on Russell square to hear from distinguished guests and speakers on a wide range of pertinent topics. What I love the most about gatherings like these is the chance to step back from the day-to-day, look beyond my narrow industry, and tap into the incredible wealth of knowledge that Cornell offers, not to mention a chance to form connections with our incredible group of Cornell alumni in London (lest we forget having some fun in the process!)
But this year's event was particularly momentous. The big announcement came from Wendy Wolford, Vice Provost for International Affairs and the Robert A. and Ruth E. Polson Professor of Global Development. For the past few years, she has been spearheading a University initiative to develop 'Cornell Global Hubs' – a series of strategic partnerships with Universities around the world that span student exchanges, research collaborations, guest lecturing, and various other forms of collaboration. By far the most exciting announcement of the day was that Cornell has signed strategic partnerships with five leading universities in the UK – King's College London, Queen Mary University of London, Imperial College London, University College London, and University of Edinburgh. Cornell is thinking and acting globally, and for UK-based Cornell alumni this will present excellent opportunities to engage.
With this critical backdrop of Cornell's global collaboration, the day was filled with an impressive line-up of distinguished speakers. Meejin Yoon, '95, The Gale and Ira Drukier Dean of the College of Architecture, Art, and Planning at Cornell gave the opening talk themed: 'The Future of Design and Technology.' Through Cornell's Mu Hoi Centre for Cities and other initiatives, Cornell is inspiring people to tackle sustainability and climate change adaptation for our cities. With 70% of the world's population projected to live in cities by 2050, and with concrete alone accounting for 8% of all global CO2 emissions, the way we build cities must evolve.
Meejin elaborated on a $1.6 trillion opportunity available to the construction industry through improved productivity from digitisation. AAP is working with industry players to test new technologies, such as 3D printing buildings, including a two storey home recently built in Texas within just a few weeks.
Meejin also highlighted how Artificial Intelligence and CRISPR genome editing technology – such as those used by the Pink Chicken Project – are fundamentally changing the field of design and creating new possibilities. Design, ultimately, is about shaping the future, or imagining how the world ought to be. Meejin aptly quoted celebrated fictional writer William Gibson: "The future is already here".
Continuing the theme of technology, our next panel was on 'Frontiers in Health: AI, New Technologies, and Wellness', moderated by Rachel Beatty Riedl, Director, Mario Einaudi Center for International Studies, John S. Knight Professor of International Studies, and Professor, Department of Government and Brooks School of Public Policy at Cornell.
A key theme in this panel was the big role that technology and data are playing in changing the face of healthcare. Mert Sabuncu, Associate Professor, School of Electrical and Computer Engineering and School of Biomedical Engineering at Cornell and A. Aldo Faisal, Professor of AI & Neuroscience, Imperial College London spoke about the role of big data in revolutionising healthcare. Professor Faisal shared findings from some incredible work wi
th Tesco Clubcard data, Visa card and the Royal Marsden, which was able to detect cancer in some patients three months in advance of the healthcare system based on lifestyle and purchasing pattern data.
Tina Woods '85, Founder and CEO of Collider Health and Healthy Longevity Champion for the UK National Centre for Ageing, highlighted the importance of staying healthy outside the healthcare system, an area largely overlooked but which can now be meaningfully tackled using digital tools and technology. Healthy people are a precursor to more prosperous nations – in Tina's words "health equals wealth", and she pressed that there's a critical need for long-term oriented capital to fund some of the biggest opportunities available to drive better health outcomes for the world.
One of the most touching stories of the day came from Gunisha Kaur '06,'10, Assistant Professor of Anesthesiology, Founding Director of the Human Rights Impact Lab, and Co-Medical Director of the Weill Cornell Center for Human Rights, and Faculty Fellow, Mario Einaudi Center for International Studies. Gunisha began with a personal story that has shaped her life and career: her family escaped from political violence in India almost 30 years ago, leading them to emigrate to the USA. The US's only dual trained medical anthropologist and anesthesiologist, Dr Kaur helps physicians better understand how social, cultural, economic, environmental and other external factors influence health, focusing on migrant and refugee communities.
Rounding out the agenda before lunch, we heard from Eswar Prasad, the Nandlal P. Tolani Senior Professor of International Trade Policy at Cornell and Senior Fellow at the Brookings Institute on the 'Future of Money and Finance in the Digital Age'. With the 'crypto winter' well underway, the question on everyone's mind was what the future of digital currencies might hold. Eswar reminded the audience about the founding promise of Bitcoin to make transactions without using an intermediary institution, or relying on currencies created by central
banks, all while using radical transparency and protecting people's identities.
While it was not the original intention, crypto currencies have become speculative assets. The blockchain technology, however, continues to hold incredible promise. With recent developments to create 'Central Bank Digital Currency (CBDCs), the technology is clearly here to stay. Yet Eswar sounded a note of caution on this trend, suggesting that CBDCs may end up reducing innovation and may create market instability as capital shifts from banks to CBDCs. No matter what, there will be no resting in the land of digital currencies, and this will continue to be an interesting space to watch.
After lunch – and before breaking for an end-of-day celebration of the Global Hubs – we tackled two highly topical themes: 'New Directions in Climate and Economy' and 'Politics Across the Pond'.
The first landed days before the kick-off of COP27 and the G20, with many questions swirling overhead as to how we can tackle one of the world's greatest challenges: the climate emergency.
To set the tone we were treated to a surprise virtual message from Jane Goodall, A.D. White Professor-at-Large at Cornell from 1996-2002. Goodall reflected on her time at Cornell, shared what a "great honour" it is to have an endowed professorship in her name at "such a prestigious university." "It would be a dream come true" she proclaimed. She highlighted the many challenges facing the world but focused her message on one of hope; in her pertinent and inspiring words: "Hope isn't wishful thinking. It's about taking action." [insert video?]
Diane Bailey, Director of the Cornell Institute for Digital Agriculture (CIDA) and Geri Gay Professor of Communication, Depart
ment of Communication at Cornell showed us how Cornell was contributing to technological advances to the field of digital agriculture – an industry expected to be worth $12.9 billion by 2027. For example, Diane showed how Cornell is developing applications using robotics and computer vision that can spot diseases on grape plants with greater precision than before. Dairy farming and regenerative agriculture are other areas where Cornell is leading.
Jamie Cross, Chair and Professor of Social & Economic Anthropology; Director, Edinburgh Earth Initiative reminded us that while many in academia are working on addressing climate change, in order to move forward, we must first address the historical climate injustices and challenge ourselves to understand what went wrong, and how to avoid the mistakes of the past that have led us to destroy our natural capital, a collapse of our natural ecosystem, and the unsustainable world that we live in today. We must examine and challenge our language – citing, as an example, the dangerous historical connotations implied by using the common word "to seize" when we talk about 'seizing the opportunity' in climate change.
Ravi Kanbur, T.H. Lee Professor of World Affairs, International Professor of Applied Economics, and Professor of Economics at Cornell pressed the point that climate inaction is by its very nature an injustice. People living in the future will be most affected by it, yet they have no
ability to vote today or to tax present day citizens for their presently generated negative externalities. He went on to plea that we must rapidly tax negative externalities yet do so in a way that doesn't disproportionately affect those with lower resources.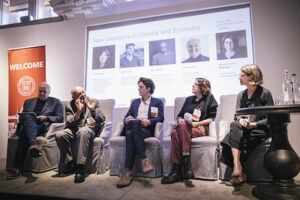 Finally, Paul Polman, business leader, co-author of "Net Positive: how coura
geous companies thrive by giving more than they take", a Financial Times Business Book of the Year, and climate and equality campaigner, made an urgent appeal for more progress against the climate emergency. He reminded the audience that we have already exceeded seven of the nine planetary boundaries, and are thus in a negative feedback loop. Noting the irony, he explained that Covid has cost the global economy approximately $25 trillion, yet it would cost a fraction of this to protect our biodiversity, which would have potentially helped avoid Covid in the first place. Without action, we can expect more outbreaks, more natural disasters, and the costs of climate change to spiral without urgent action. Paul's appeal: "the time for more consciousness is now". He encouraged us to think about the role we can play today, stating that "leadership starts with the individual", calling on us all to act now.
'Politics Across the Pond' featured an animated conversation with sitting Member of Parliament for Huddersfield, Barry Sheerman, and former U.S. Congressman Steve Israel (60') and Director of the Cornell Jeb E. Brooks School of Public Policy Institute of Politics and Global Affairs, Professor of Government at Cornell, and Former Congressman. With almost 300 election deniers on the ballots of nearly 60% of US voters in the 2022 midterm elections, the question on everyone's mind was "what's gone wrong?"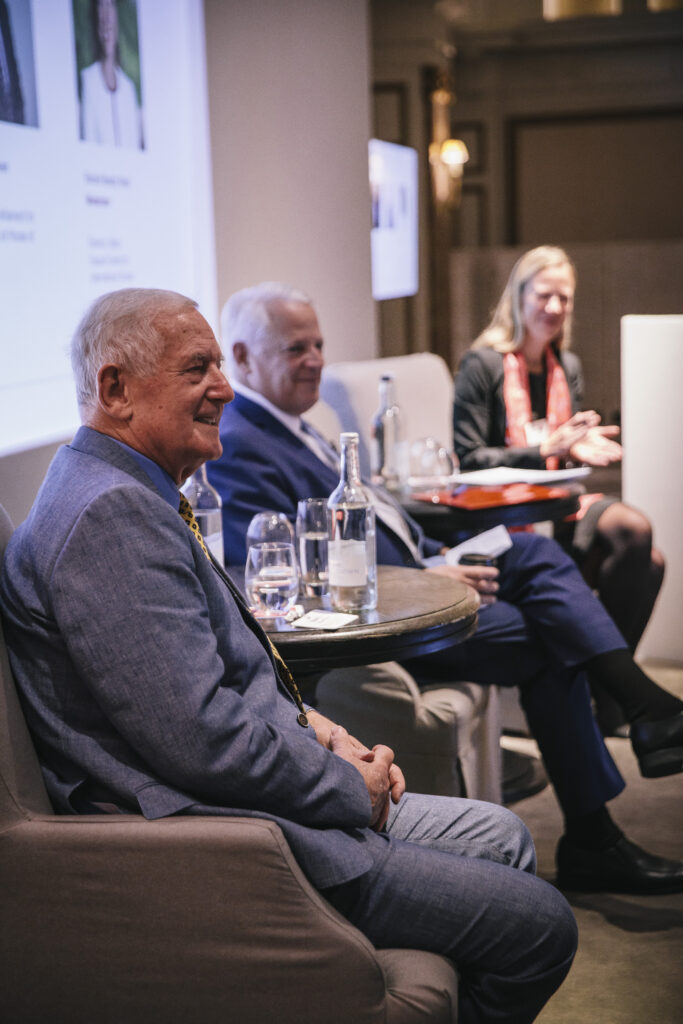 Barry suggested that three factors have played a critical role: the 'breaking news' phenomenon on TV, deterioration of dialogue on social media where "conflict sells", and electoral gerrymandering are leading an alarming attack on our democratic systems. Barry highlighted the need to make media honest and accountable again, and that we must train people to be critical receivers of information.
Steve Israel pointed to a more 'contested world', the theme of the 2040 Global Trends report, a key report issued every four years by the National Intelligence Council since 1997, and similarly suggested that we need to critically revaluate America's media landscape, which has become far too polarised and toxic.
We wrapped up the day with an exciting presentation from Wendy Wolford on the new Cornell Global Hubs programme and a panel of speakers from across the partner universities in the UK. This allowed us to end the day on a strongly positive note: there is great enthusiasm across both sides of the pond for greater collaboration.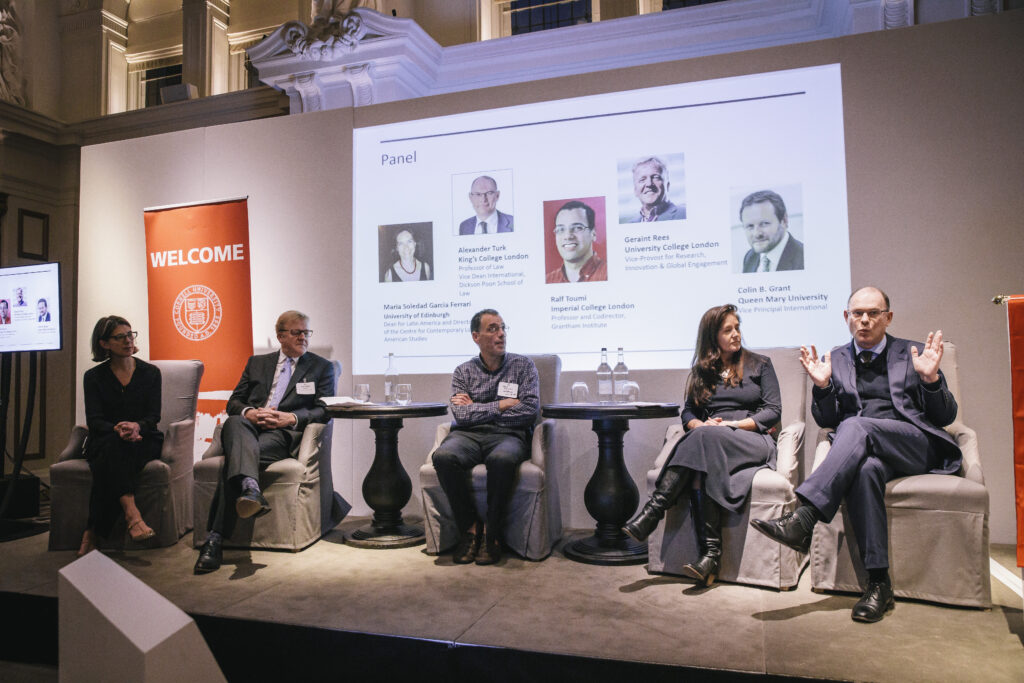 And as is Cornell tradition, we let our alma matter flow from our mouths, then allowed drinks and delicious nibbles to flow in with a celebration of Cornell's Global Hubs in the Kimpton's beautiful Palm Court.
A big thank you to everyone who helped make this event a reality: the fabulous teams at Cornell University and the entire Cornell Club of the United Kingdom board and executive team who all generously volunteered precious time to play key roles before, on, and after the conference, and all our distinguished speakers and alumni guests for your brilliant participation throughout the day.
If there was one thing we walked away with, it was a strong reminder of all the good Cornell – and we as Cornellians – can bring to a changing world. Collaboration, it turns out, is the key ingredient.